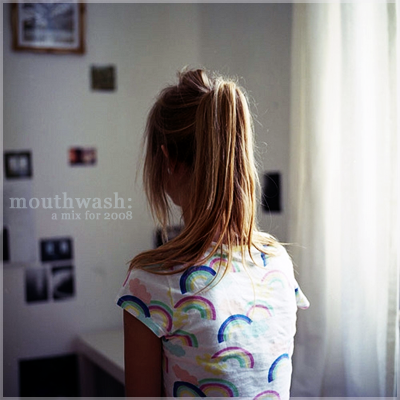 be ok ; ingrid michaelson


Open me up and you will see
I'm a gallery of broken hearts
I'm beyond repair, let me be
And give me back my broken parts



mouthwash ; kate nash


'Cause I use mouthwash
Sometimes I floss
I've got a family
And I drink cups of tea

I've got nostalgic pavements
I've got familiar faces
I've got mixed-up memories
And I've got favourite places



just a little bit ; maria mena


Just a little bit stronger
Just a little bit wiser
Just a little less needy

Maybe I'd get there...

Clearly, clearly I remember
Pulling up my shirt
Staring blank ahead

Clearly, clearly I remember
Days of useless crying
Almost feeling dead

Perhaps, perhaps if I was smaller
Perhaps, I could control myself
Perhaps if I was



keep breathing ; ingrid michaelson


The storm is coming but I don't mind.
People are dying, I close my blinds.

All that I know is I'm breathing now.
I want to change the world, instead I sleep.



quiet ; natalie weiss


Between yelling too much
Or not yelling enough
So that people don't walk over you?
Is it a crime to just want to be nice?
To avoid confrontation
And show everyone a little respect?

Time after time
I find that I'm struggling
To tell you
What's burning inside
A glimmer of hope
That you'll finally see..
Yet I remain quiet.



All mix posts remain public.

- change 'xx' to 'tt'
- don't share these links!
- Invite your friends to join if you like what you see!
Current Music:

THE DANDY WARHOLS ; we used to be friends